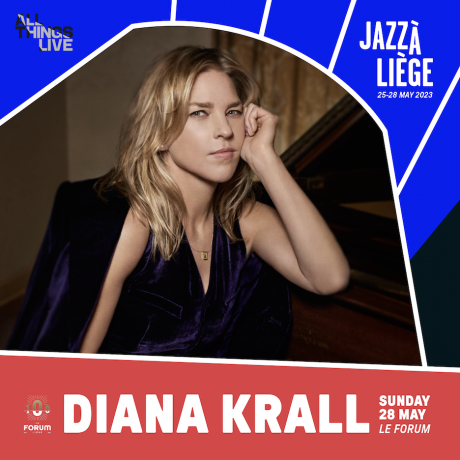 First name : Diana Krall
Jazz in Liege will be back in the city's most beautiful venues from 25 to 28 May and has already unveiled its first prestigious headliner: DIANA KRALL on 28 May.
Belgium is delighted to welcome her for the first time in Liege! Classics, virtuoso piano playing and a powerful stage presence: there is no doubt that the Forum will fall in love with her on Sunday 28 May 2023.
This exceptional concert takes place in the framework of the Jazz in Liege festival and the 100 years of the Forum. Please note that it will not be available as part of the PREMIUM festival PASS and only via single ticket on sale on 5 October at 11:00 on www.leforum.be
October 3rd, 2022
Jazz à Liège, c'est une programmation riche avec des artistes confirmés mais aussi des artistes émergents et des découvertes. Jazz à Liège propose en effet chaque année de découvrir des artistes locaux. AMLOU et GREEN MOON TRIBE ouvraient l'édition 2023. Deux groupes qui ont eu la chance de (…)

October 12th, 2023

Le dimanche 28 mai, profitez d'une journée en famille avec Jazz à Liège Kids ! Commencez la journée par l'atelier d'éveil musical avec les jeunesses musicales de Liège de 10h à 11h au Reflektor sur entrée gratuite ! Au programme : des activités ludiques auditives, rythmiques, vocales, (…)

April 25th, 2023